Experience a whole new way of sewing with the ambition™ 1.0 by Pfaff®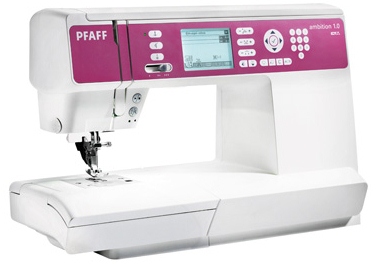 PFAFF® has done it again! This terrific sewing machine can take your sewing to the next level. With it's unique features, how far will you go?
The
PFAFF®

ambition™ 1.0 features:
Original IDT™ System

– Integrated Dual Feed only from

PFAFF®

for over 40 years! Absolutely even feed of fabric from the top and bottom. The IDT™ system is ideal for the quilter and sewing. This system works with any stitch forward or reverse at any stitch length or width. The original IDT™ system from

PFAFF®

is built right into the machine. It can be easily engaged or disengaged when needed.

Large Sewing Space

– The sewing area to the right of the needle is 200mm, great for large sewing projects.

German Innovative Design

– Built to make sewing easy and to achieve the professional results that sewers want.  The

PFAFF®

ambition™ 1.0 sewing machine with its innovative features, durability and ease of operation makes it the sewing machine for you.

Large High Resolution Screen

– You can view your selections, options and stitch information on screen. Also, all stitches are shown in real size.

Start/Stop button

– Press the Start button to sew without the foot control.

Speed Slider

– Adjust your sewing speed with the speed slider for full control of your stitching speed.

3 LED Light sources

– Optimized bright lights illuminate your entire sewing area without shadows.

Extra Presser Foot Lift

– Raise the presser foot to its highest position so that thick fabric can be easily placed under the presser foot.

Presser Foot Pressure

– The foot pressure can be adjusted when using specialty techniques or when sewing on light or heavy fabrics.

Needle Up/Down

– Touch a button to set your needle to automatically stop up or down in the fabric for pivoting, applique and more.

Free Motion Sewing

– Simply attach the optional free-motion presser foot for easy stippling or free-motion embroidery.

External Feed Dog Drop

– Lower the feed dogs for stippling, free-motion embroidery or darning with a slide of a button.

Decorative Stitches

– Select from a wide variety of beautiful high quality stitches – over 136. Including but not limited to utility, button holes, 7mm wide decorative, quilt, cross and hem stitches.

Alphabets

– Choose from two different built-in font styles: Block and Cyrillic letters.

Mirror Image

– Flip the stitch from side-to-side and/or end-to-end, for more creative possibilities.

Elongation

– Lengthen satin stitches and the entire stitch will be longer but the density will remain the same.

Sequencing

– Combine and save up to 20 stitches and/or letters into one of the four sequence memories.

Memory

– Change the setting of a built-in stitch to your personal liking and save it one of the four sequencing memories.

Needle Threader

– The integrated needle threader makes threading the needle fast and easy.

Tie-off

– When selected the

PFAFF®

ambition™ 1.0 will tie-off automatically at the end of a sew for a quick and easy finish.

Stitch Width Safety

– When engaged the

PFAFF®

ambition™ 1.0 will limit stitch width to center needle straight stitch while using straight stitch needle plate and/or straight stitch foot to prevent needle breakage.

Bobbin

– For ease of access, change your bobbin from the top

Warranty

– 10 yrs. Metal casting, 2 yrs. Electronics, 1 yr. Labor.
Accessory Feet Included:
OA Standard foot with IDT™, 1A Fancy stitch foot with IDT™, 2A fancy stitch foot, 3 Blind-hem foot with IDT™, 4 Zipper foot with IDT™, 5B One Step Button hole foot
Additional Accessories Included:
Hard Cover

– Protect your sewing machine when transporting it, and keep it dust free.

Spool Pins

– Two spool pins for twin needle sewing or specialty sewing.

Accessory Tray

– With two distinct compartments to store your feet, bobbins and any additional accessories.

Manual

– Great reference guide for your

PFAFF®

ambition™ 1.0
Stop in to pick up yours today!