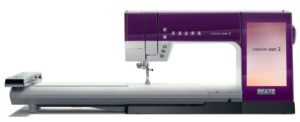 Perfection starts here!  The PFAFF® creative icon™ 2 sewing and embroidery machine marks a revolutionary step for sewist.  A world first in the home sewing industry, artificial intelligence and speech recognition features give you the ultimate connectivity – enabling you to reach new levels of your craft, effortlessly!!

A.I. Artificial Intelligence, Technology – to continuously process information and improve machine performance – starting by ensuring foot and stitch compatibility.

The World's First Consumer Machine With Speech Recognition – for hands-free function, inspiration and assistance.

my Sewnet™ – the world's only cloud-based embroidery software, delivers connected designing and discovery across devices.

The World's First creative Embellishment Attachment – an engineering innovation that will automatically couch yarn, ribbon, beads or cord in all direction directly on your embroidery project.

Projector – highlights sewing pat with adjustable guides and grids, and allows you to preview embroideries or stitches on fabric.

Camera – allows you to scan a hooped project and upload that as a background to your screen in embroidery mode.
PURPLE AURORA
DESIGN INSPIRATION
Intuition at its peak. That is wat designers captured with the finish of this machine – demonstrating how one's creative intuition can truly florist when sensory-driven technologies are there to advance every idea.

INTUITION – SOPHISTCATION – VISION
Rich, garnet color evokes the deep glow of the night sky
Finish features luminous, metallic element under smooth glass finish to capture interest and light
Deep purple heightens senses and creativity

A.I. ARTIFICIAL ITELLIGENCE TECHNOLOGY
A SMARTER WAY TO SEW AND EMBROIDER
A.I. Allows the Machine to Learn and Continuously Improve
The PFAFF® creative icon™ 2 sewing and embroidery machine ushers in a new era of sewing. It is the first sewing machine in the world to be engineered with artificial intelligence. Fueled by an upgraded microprocessor, this advanced machine monitors sewing and reacts to spoken commands, automatically processing the information in the Cloud to deliver peach performance.
TODAY'S A.I. – Attach almost any presser foot and the machine will alert you if the foot is compatible with your stitch selection.
TOMORROW'S A.I. – Will ensure you have the most advanced sewing features and functionality continuously added to your machine through automatic software updates.
CONSUMER SEWING MACHINE WITH SPEECH RECOGNITION
RECOGNITION IS EVERYTHING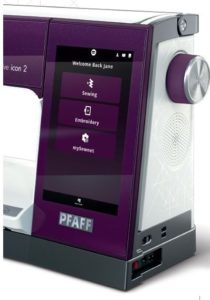 use your words to connect more with your craft

A first for the sewing world, the PFAFF® creative icon™ 2 sewing and embroidery machine connects to compatible smart speakers or a mobile phone with the Alexa app for touchless interactivity, giving you the freedom to get assistance without taking your hands off your project. Engage in over 40 helpful interactions, with the new items to be added in the future.


CONNECT & CREATE WITHOUT RESTRICTIONS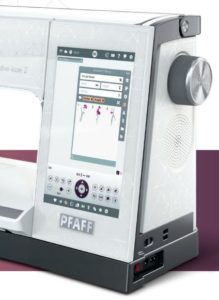 tap into the world's only cloud- based embroidery software
Take advantage of mySewnet™ with even more freedom. PFAFF® creative icon™ 2 sewing and embroidery machine is WiFi® enabled so you can access the full functionality of mySewnet™ from anywhere and easily communicate and collaborate between enabled devices.
CONNECT – Easily save and transfer designs using the mySewnet™ cloud. Get notifications about new machine software updates and wireless downloads.
EXPLORE – Browse the mySewnet™ blog directly from your screen with news, tips, and hints, free projects and free designs.
SUBSCRIBE – 90- day free trial of mySewnet™ Silver embroidery software with editing tools and mySewnet™ library included.
MANAGE – Get help and instructions, monitor embroidery stitch-out process, design placement and more. Free Android™ and iOS® apps allow you to connect your phone or tablet to your machine even if they are not on the same WiFi® network.
CREATE – Use Project Creator to develop interactive sewing instructions with images, designs and stitches, and share with friends. Access instruction on-screen and load stitches and designs directly from the instructions to make projects easy to create and replicate.

UNLEASH CONNECTED CREATIVITIY
browse, create and modify embroideries
Subscribe to mySewnet™ embroidery, the industry's only subscription-based software service, to bring ou the full capabilities of the creative icon™ 2 sewing and embroidery machine.
complementary access included with machine purchase
Includes embroidery edit features such as color change, scale and more!
Android™ and iOS® apps for help and project instructions, design placement, stitch out monitoring and photo stitch functions.
MSRP $24.99 per month
Includes all that mySewnet™ BASIC offers, plus
Lettering: More than 200 high quality embroidery fonts
Resize: Change the size of your embroidery designs with automatic density recalculation
More than 2,000 Super Designs that are built to e resized to any size!
Encore, Split and Endless Wizard helps you modify your embroideries or create unique designs for your project
Access and use of 5,000 patterns in mySewnet™ library included at no additional cost! (requires a mySewnet™ enabled sewing machine)
MSRP $49.99 per month
Includes all that mySewnet™ SILVER offers, plus
Subscription that stays up-to-date!
Create your own designs with our most powerful embroidery software yet.
The most tools in the market for assisted digitizing included new and unique Spiro Design Wizard
World-class, full digitizing in three creative modes, Quick Create, Freehand Create or Precise Create
New embellishment tool to create unique ribbon embroideries
And much, much more!!

ADVANCED ACCESSORIES
ENGINEERED TO EXPAND POSSIBILITIES
take creativity with cutting-edge capabilities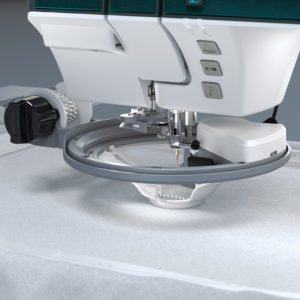 A leader in the industry, PFAFF® brand delivers functional design with an eye toward bringing out the best in every project and every stitch. The advanced accessories of the creative icon™ 2 sewing and embroidery extend your capabilities in terms of materials scope and ease.
creative™ Embellishment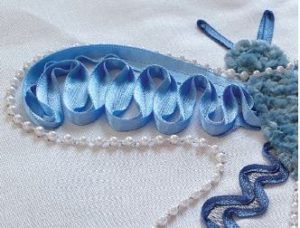 Attachment – The first and only embellishment attachment in the industry to automatically guide ribbons, beads, yarn or cording with ease while embroidering. It rotates 360º to ensure perfect material placement to create the ultimate in custom embellishment.
Multi-Function Foot Control – In addition to sewing speed, the foot control allows you to have hands-free control of up to three machine functions at a time that you select:
Reverse stitching
Stitch restart
Foot up or extra lift
Thread cut function
Needle up or down
Tie-off function
creative™ Grand Dream Hoop – Included with the machine, it is the largest machine embroidery hoop on the market to accommodate the larger embroideries in one hoop (360 x 350 mm)
ENVISION WITH EXCELLENCE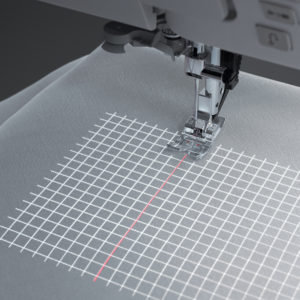 PROJECTOR – use these user-friendly functions to ensure perfect alignment and spacing.
Stitch Preview: See where stitches will be placed when in sewing mode.
Line and Grid Guides: Overly helpful lines with adjustable angles and grids of adjustable sizes in sewing mode. Color adjusts for maximum visibility against chosen fabrics.
Embroidery Preview: Select a portion of your embroidery design on screen to preview on your hooped project.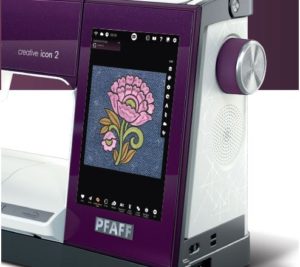 CAMERA – stitch every embroidery design with certainty
Scans fabric placed in the embroidery hoop
Loads fabric image on screen in embroidery mode
Use loaded background to preview design on fabric and assist with design placement
TECHNOLOGY FOCUSED ON TECHNIQUE
Top Performance Through Best-In-Class Features
Complete every step with PFAFF® brand power and precision
Brightest LED working-space light designed by optronic experts to show colors truly and limit shadowing on projects.
33.7 pounds of piercing power to sew through thick or layered materials with ease.
Uniquely engineered baseplate to increase stability to more comfortable sewing
Patented Activstitch™ Technology
deliver perfect stitch quality on the front and back every time, no matter the level of design or thread
Revolutionary features employs sensors to measure fabric thickness and then regulates the amount of thread needed by both needle and bobbin
Resulting stitches are perfect on both sides of fabric, even when fine or metallic threads are used
REDEFINING EVERY STITCH
SEWING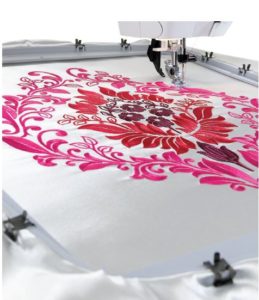 Exclusive Stitch Techniques – Create unique finished works with hundreds of sophisticated stitch techniques
Floating stitches
Radiant stitches
Single ribbon stitches
Double ribbon stitches
Triple ribbon stitches
Lace edge stitches
Stacking stitches
Tapering on all Decorative Stitches – Bring a greater level of customization to each piece by perfectly matching pattern around corners and altering stitch angles
Three Free Motion Modes – Get prefect results with all free-motion foot options to quilt, do ruler work, thread painting or darning easily.
Largest Embroidery Area on the Market – Use the creative™ Grand Dream Hoop to embroider larger projects faster with size of 360 x 350 mm. (14″ x 13″)
Included Embroidery Hoops – This variety of hoops allows to embroider efficiently, without wasting time or material.

creative™ Grand Dream Hoop (360 x 350 mm) (14″ x 13″)
creative™ Supreme Hoop (360 x 260 mm) (14″ x 10″)
creative™ Elite Hoop (260 x 200 mm) (10″ x 8″)
creative™ 120 Square Hoop (120 x 120 mm) (4¾" x 4¾")
CONNECT MORE WITH INTUITIVE INNOVATIONS
Large 10.1″ Multi-Touch Screen – Create and interact more on screen with one of the largest full-color displays.
Extra-large Capacity bobbin – 30% larger bobbin* allows you to sew longer without interruption
Enhanced Fabric Feeding – Eight feeding segments, the most on the market, deliver exceptional, even feeding no matter the material
Original IDT™ – Eliminate slippage and feed fabrics smoothly to guarantee even seams on all fabrics, from fine to bulky
Ensures even feed from top and bottom fabrics
Features it own power source for greater control
Built-in sensor lets you know when to activate or deactivate based on the fabric feed performance
Free Updatable Firmware – Connect over WiFi® and your machine will automatically update to the latest firmware to continuously elevate your sewing experience. These updates are always free, unlike some other brands!
STANDARD ACCESSORIES INCLUDED WITH PURCHASE
These creative icon™ 2 sewing and embroidery machine accessories are design to help you bring out the best in your craft.
0A Standard with IDT™

– is used mainly for straight and zigzag stitching with a stitch length longer than 1.0mm.

1A Fancy Stitch Foot with IDT™

– is used for decorative stitches.  The grooves on the underside of the foot is designed to flow smoothly over the stitches.

2A Fancy Stitch Foot with IDT™

– When sewing decorative stitches or short zigzag stitches and other utility stitches with less than 1.0mm stitch length, use this foot.  The groove on the underside of the foot is designed to flow smoothly over the stitches.

3 Blind Hem Foot with IDT™

– is used for blind hem stitches.  The toe of the foot guides the fabric.  The red guide of the foot is designed to ride along the fold of the hem edge.

4 Zipper Foot with IDT™

– can be snapped on either the right or the left of the needle, making it easy to sew close to both sides of the zipper teeth.  Move the needle position to the right or left to sew closer to zipper teeth.

5A Sensormatic Buttonhole Foot

 – When connected to the machine, the buttonhole is sewn in the length that has been entered into the machine.

5M Manual Buttonhole Foot

 – is used for sewing manual buttonholes.  Use the markings on the foot to position the garment edge.  The finger on the back of the foot holds cording for corded buttonholes.

6A Sensormatic free-motion/Embroidery Foot

 –  is used for embroidery and free motion sewing.  This foot can also be used for darning.

6D Dynamic Spring Foot

 – is always recommended for embroidery.  It is also used for free motion sewing, quilting and embroidering on especially thick or spongy fabric.  When using the Dynamic Spring Foot for free motion you must select it in the Free Motion Options window in Sewing Mode.

8 Maxi Stitch Foot

 – is used for side motion stitches.

¼" Quilting Foot with IDT™

– is perfect for piecing and patchwork, especially when used in conjunction with the straight stitch needle plate.  The distance from the needle to the outer edge of the right toe is ¼" (6mm).  The distance from the needle to the inner edge of the right toe is 1/8″ (3mm).

Bi Level Guide Foot with IDT™

– is especially suitable for sewing the exclusive stitch techniques such as Edge stitches and floating stitches.  The underside of the presser foot is designed to be higher on the right side, and has a guide in the center, allowing the presser foot to glide along a folded edge.
Also Included

–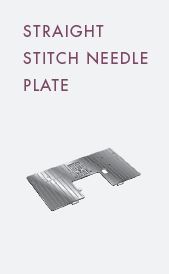 Straight Stitch Plate with single hole for more precision and control.
See us for a demonstration today!!
Close to Home Sewing Center with their website content New England Sewing Center, New England Sewing and Embroidery Machine Dealer, is in NO way affiliated with or connected to our operation here at New England Sewing, LLC, 501 Hartford Rd, Manchester, CT 06040