Swiss Design and excellence by your side
A symbol of innovation and high standards of service, the elna brand is recognized for the unrivalled quality of our products and the elegant design of our sewing machines. Since their founding in 1940, elna has always been a pioneer in innovation with the introduction of a multitude of ground-breaking models featuring remarkable advances on the fronts of technology, design and user comfort.
Their range of products includes a wide selection of sewing, embroidery and overlock machines. By integrating automation and technological advances, they continue to improve the performance of elna products to meet our customers' expectations. Most importantly, they design machines that ensure user-friendly operation to offer everlasting sewing pleasure and enhance creativity.
Elna's high quality standards and excellent after-sale service translate into product durability, their sewing machines' extended lifetime means that it is not necessary to replace them with a new one in a short time. As a result, this can save resources and energy, and ultimately helps protecting our planet for future generations.
The elna
eXcellence
sewing machines are elna's premium computerized models. These powerful machines offer a wide range of superior functions, exceptional sewing comfort, perfection of stitching and a great stability.  For the ultimate tool in sewing, check out elna
eXcellence 720PRO. 
If you are looking for a machine with a bit more creativity, try out the elna
eXcellence 680+
.
The elna eXpressive range models are made for thread-intensive embroidery and combine functions for both high-level sewing and quilting projects. All technical features of these top of the line models will expand your capabilities and deliver extreme stitching precision for both embroidery and sewing work.  Customize your work with the embroidery only elna eXpressive 830L.
The elna eXperience sewing machines are very intuitive, they will simplify your sewing tasks, saving you time and trouble. They feature a number of automated functions, facilitated threading, a jam-proof drop-in bobbin, and guided setting of stich length or tension to limit possible mistakes. The elna eXperience 560 is the perfect machine to make your sewing a breeze.  If you are looking for the perfect make to take to a class, look no more, the elnastar is for you!!
The eXplore sewing machine range offers a selection of decorative and utilitarian stitches, along with technical features that will allow you to take on sewing and achieve your first homemade projects. The elna eXplore 160 is just the machine for beginners.  If you are looking for something with a bit more then the 3210 elna is the one for you.
elnita by Elna is the ultimate machine collection. These intuitive machines will simplify your sewing tasks, saving you time and trouble, while being budget friendly but complete. The amazing technical features will allow you to take on sewing and achieve your homemade projects.  elnita delivers extreme precision for your sewing experiences, expand your capabilities and advance to a new level of making and creativity.  Speed, accuracy and straight stitch then check out elnita ef1.  Need more than a straight stitch and a smaller machine then the elnita ec30 could be the one.
FOR PROFESSIONAL FINISHES!
Used ideally together with a traditional sewing machine, elna overlock and coverlock machines are equally useful for finishing and assembling garments.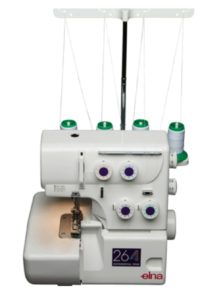 You will be able to sew with precision and tailor a garment from A to Z just like fashion professionals. Assembling hard-to-work synthetic materials becomes as easy as assembling stretchy, lightweight or thick fabrics.  We offer a great work room work horse the elna 264.