I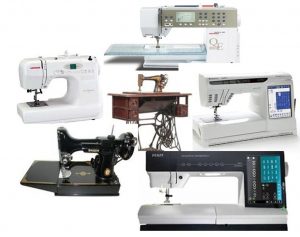 s your sewing machine not picking up the bobbin thread, skipping stitches? Is it running slow, making strange noises or even worse, not turning on at all? Do all the functions operate as they should? Whether you have a priceless antique handed down from generations or one of today's high tech computerized machines, we have the means to repair it. Bring it in to New England Sewing and our expert service and repair department will provide a free estimate for you. We service all makes and models and have access to just about any part still in production. All work is done right here at the store.
No appointment necessary, just stop in!
PFAFF – JUKI – JANOME – BERNINA – VIKING – SINGER – BROTHER – ELNA – TAILOR – NECCHI – NEW HOME – WHITE – CONSEW – TACSEW – KENMORE – HARMONY – JCPENNY – EURO PRO – VINTAGE & ANTIQUES
Our technicians have over twenty five years of experience working on machines. They have traveled extensively throughout the United States to be factory trained on all aspects of machine repairs. You can rest assured that we handle each machine with care and confidence! We treat them as if they were our own.
How does your repair shop rate?
New England Sewing gives you more.
FREE ESTIMATES!
Diagnosis fees are just another way to get $$$ from you. If a technician has to spend so much time figuring out the problem that they must charge you, then they lack the knowledge and/or the experience to do the job anyway. We are happy to take the time to explain what's wrong at no charge to you.
ONE YEAR WARRANTY!
On all labor we perform from date of pick-up. Some might say we're crazy, but we don't want your next visit to include you being disappointed and a machine that's not working so we strive to fix it right the first time.
25+ YEARS REPAIR EXPERIENCE!
That's right, I started repairing all makes and models at American Sewing Machine, in 1992. Ask your tech how long they have been working on and selling sewing machines. Remember anyone can blow some air into a machine and dump some oil into it believe me I see it all the time! Do you really want a novice or self proclaimed mechanic tinkering around with your machine? Why fund someone else's on the job training?  Admittedly, I had a little fun writing this! I just feel badly when I see someone paid for a job that was not done correctly or corners were cut.
Pick-up, delivery, and on site Sewing Machine Repair are available for an additional fee. These services are available throughout Connecticut including but not limited to Hartford, West Hartford, Simsbury, Avon, Wethersfield, East Hartford, Glastonbury, Manchester, Vernon, Tolland, South Windsor, Windsor, Rocky Hill, Newington, Shelton, Monroe, Stratford, Colchester, Middletown, Cromwell, Essex, Derby, Fairfield County, Old Saybrook, Groton, Old Lyme, Madison, Guilford, New London, Mystic, Niantic, Waterford, Springfield MA and more.
Subject to availability of the service technician.
Call us at 860-647-8119 or 1-800-44-SEWIN
Municipal / School /Small Business / Corporate accounts / References available