Sew like a professional!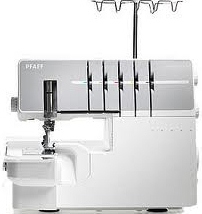 Sew, trim, hem and more in a single step for a professional finish on all of your projects. Give your ideas the perfect finish and create exclusive accents with decorative stitches.
Here are a few key features:
Spacious

Large Sewing Space – More Space for cover-stitch projects.
Extension Table included – It gives an extra large support for beautiful results.

5, 4, 3, 2 Thread Sewing – Many options for utility and decorative sewing.
23 Stitches – Trim, stitch, overcast and decorate projects in half the time.

Cover stitches – great for sewing elastic hems, perfect for finishing all kinds of knitwear hems.
Chain stitch – Join fabric layers where a traditionally pressed open seam is required. Works great as a basting stitch.
5-thread over-lock – combines two stitches for durable and reliable seams.
4-thread over-lock – reinforced overlock stitch for perfect sewing, trimming and finishing.
3-thread over-lock – wide and narrow seams and decorative techniques.
2-thread over-lock – rolled edge and flat lock, wide and narrow.
Built-in rolled edge – sew 2 or 3-thread rolled hems quickly without changing the presser foot or stitch plate.

Auto Tension Dial – You select the desired stitch and thread tension is automatically set.
Tension Release – Threads pull easily when presser foot is up.
German Innovative Design – Built to make sewing easy and to achieve the professional results that sewers want. The

PFAFF®

coverlock™ 3.0 overlock machine with its innovative features, durability and ease of operation makes it the serger for you.
Change from Over-lock to Cover-stitches – No needle plate/presser foot change needed at conversion for different stitches.
Differential Feed – Adjustable for perfectly even seams, no stretching or puckering of fine fabrics.
Speed – Sews 1100 stitches per minute to save time. 2 sewing speeds. Use the slower speed when you want more precision.
Thread Paths – Lay-in tension and color coded thread paths for quick and convenient threading.
Cutting Blades – The upper cutter is movable to disengage for special techniques.
Safety Lockout – When the front cover is open the machine will not sew.
Carry Handle – Built-in extended carrying handle to move the machine without tangling the threads.

Waste Tray – Catches fabric trimmings.
Stop in today for a demonstration.