For everyone who is passionate about sewing and always searching for a new inspiration – the PFAFF® creative™ 3.0 sewing and embroidery machine is here. Step into the exciting world of embroidery and discover the advantages of creating with this amazing machine. You will be amazed….
Here are some of the features
The Original IDT™

– Integrated Dual Feed only from

PFAFF®

for over 45 years! Absolutely even feed of fabric from the top and bottom. The IDT™ system is ideal for the quilter and sewing. This system works with any stitch forward or reverse at any stitch length or width. The original IDT™ system from

PFAFF®

is built right into the machine. It can be easily engaged or disengaged when needed.

German Innovate Design

– built to make sewing easy and to achieve the professional results that sewers want. The

PFAFF®

creative™ 3.0 with its innovative features, durability and ease of operation will do it all for you.

PFAFF®

creative™ Color Touch Screen

– The clear, high resolution display shows stitches in actual size and embroidery designs in true color. The intuitive layout is easy to understand.

Exclusive Stitch Creator™

– Create new 9mm stitches or edit built-in stitches for unlimited creativity!

Large Sewing Space

– The sewing area to the right of the needle is super-sized for large sewing projects. Quilting your quilts has never been easier.

Variety of Stitches

– Over 250 unique, beautiful stitches, including utility, button holes, high quality 9mm wide decorative, quilt, cross and hem stitches, some that look like vintage hand work.

LED Lights

– Optimized bright lights illuminate your entire sewing area with no shadows.

Thread Snips

– Automatically snip the top and bottom thread with the touch of a button. You can also program your creative™ 3.0 to snip the threads in a sewing sequence.

Automatic Presser Foot Lift

– Raise the presser foot to pivot automatically when the needle is set to the down position. The presser foot lifts at the end of a seam or embroidery and after a thread snip.

Extra Presser Foot Lift

– Raise the presser foot to its highest position so that thick fabric can be easily placed under the presser foot.

Top and bobbin Thread Sensors

– Alerts you when bobbin or needle thread is low.

Needle Threader

– The integrated needle threader makes threading the needle that much easier.

Top Loaded Bobbin

– Makes changing the bobbin so easy.

Two Built-In Accessory Trays

– Large trays to keep accessories close at hand with removable compartments for presser feet and bobbins.

Stylus Holder Built-In

– Keep your styles at your fingertips.

Quick Help System

– touch the quick help icon for instant information.

Speed Ranges

– Adjust sewing speed and your

PFAFF®

creative™ 3.0 sewing and embroidery machine remembers your preferred setting.

Personal Menu

– Save your personal stitches and sequences in a folder to sew them again whenever you wish.

Updatable

– Download the latest program version from the internet; update quickly with a USB stick.

Languages

– Choose from different languages in the Settings menu. Make sure your

PFAFF®

creative ™ 3.0 speaks your language.

Sewing Features:
Stitch Restart

– Instantly returns to the beginning of your selected stitch, sequence or embroidery at a touch of one button.

Free-Motion Modes

– Three modes for free motion quilting, thread painting or darning. Select the best mode for your specific technique.

Needle Up/Down

– Set the needle to stop in the up or down position. Perfect for applique', quilting and more.

Sensormatic Buttonhole

– Buttonhole columns are sewing in the same direction for precise stitch quality.

Start/Stop

– Sew without the foot control. Makes sewing long seams, free-motion and buttonholes easy! Perfect for people with foot sensitivity issues.

37 Needle Positions

– For exact placement of your straight stitch.

Stitch Width Safety

– Limits stitch width to center needle straight stitch while using the straight stitch foot to prevent needle breakage. Great to use while using the optional straight stitch plate.

Twin Needle Program

– Enter twin needle size to automatically adjust the stitch width. See the twin needle on the screen.

Immediate Tie-off

– When pressed the machine will tie-off and stop automatically for a quick, easy and neat finish.

4 Built-in Stitch Fonts

– Choose a font to personalize your sewing project.

creative signature™ Sewing Programs

–

Tapering on all 9mm Decorative Stitches

– Taper the beginning and/or end of any stitch, and choose from many different angles for unlimited opportunities.

Patchwork Program

– Use Patchwork Program to remember the seam length to repeat over and over. This can be used with both utility and decorative stitches.

Single Stitch Program

-Set exact number of stitches or sequence repeats you wish to sew.

Mirror Image

– Flip the stitch side-to-side and/or end-to-end for more creative possibilities.

Stitch Positioning

– Moves complete stitch right or left to easily align decorative stitches.

Stitch Density

– Density can be increased or decreased without affecting stitch length by controlling the distance between the stitch points.
Embroidery features:
Fantastic Built-in Embroidery Designs, Embroidery Fonts and Memory to Save Combinations

– There are over 157 fantastic embroidery designs created by fashion designers for the

PFAFF®

creative sewing machine and embroidery line and two embroidery fonts. Each in three different sizes – are stored in the machine's memory. There is plenty of space to save your personal creations too for easy access.

On-screen Customizing of Embroidery Designs

– You can easily combine multiple designs directly on screen with ease.

USB

– Transfer embroidery designs quick and easily between your computer and the creative™ 3.0 with the

PFAFF®

USB Embroidery Stick. This 1Gb size can hold all the design included with the machine plus a whole lot more!

Large Embroidery Area

– Embroider designs up to 260 x 200mm.

Jump Stitches

– Embroidery jump stitches are cut automatically and the thread tails are pulled to the under side of the fabric for a quick clean finish.

creative signature™ Embroidery Programs

–

Basting in the Hoop

– Baste your fabric to a stabilizer that is already hooped. Also great for knit fabric or other delicate fabrics that you do not wish to hoop.

Embroidery Design Scale

– Enlarge or reduce designs without changing the stitch count.

Rotate

– Rotate by 1° increments for precise adjustments.

Monochrome

– Stitch any design in a single color without color stops.

Mirror

– Flip the stitch side to side and/or end to end for even more possibilities

Hoop Positions

– Easily position the hoop to change the bobbin, trim around an applique or go to the center of a design with a push of a button. Finding the center of a design is just a touch of a button.

Design Placement

– Moves the embroidery design in four directions and rotate the design in 90 degree steps.

Basic Precise Position

– Place every embroidery design exactly where you want it.

Cut Jump Stitches

– Cut embroidery jump stitches automatically, pulling threads to the back side.

Zoom Possibilities

– Makes customizing on the

PFAFF®

creative™ Color touch Screen simple and precise

2 Built-In Embroidery Fonts

– available in 3 different sizes including upper case letters, lower case letter, numbers and symbols to personalize your projects.

Move Through the Design

– No matter where you are in your embroidery on the creative™ 3.0, you can always step stitch-by-stitch or between the colors, forward or backward, to embroider only part of the design.

QuickFont Program

– Use your computer and QuickFont Program to create embroidery fonts from any TrueType® font (download free-of-charge from www.pfaffusa.com/machineupdates).

Program for Viewing and Organizing Designs

– Organize designs saved on your computer, turn designs into image files, print catalogs and more (download free-of-charge from www.pfaff.com/machineupdates).
Accessory Feet included:
Standard presser foot OA with IDT™, Fancy stitch foot 1A with IDT™, Fancy stitch foot 2A, Blind-hem foot 3 with IDT™, Zipper foot 4with IDT™, Sensormatic buttonhole foot 5A, Manual buttonhole foot 5M, Sensormatic free-motion/Embroidery foot 6A
Embroidery Hoops included:
creative™ 120 Square Hoop (120 x 120 mm) and creative™ Elite Hoop (260 x 200 mm). All hoops come with the quick release system for easy re-hooping.
Additional Accessories included:
Small embroidery unit, hard cover case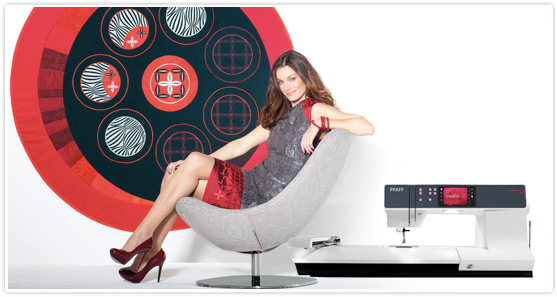 Stop in for your demonstration today!