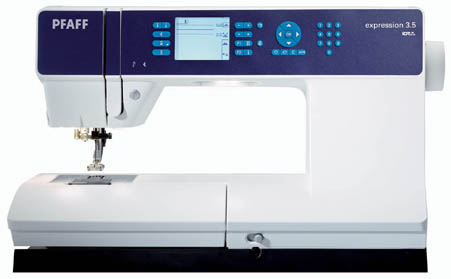 Looking for a wonderful machine? Are you planning on sewing again? Then this is the sewing machine for you. The PFAFF® expression™ 3.5 is what you are looking for. Just right to make those large sewing projects more manageable. All it takes is one look at its unique design to understand that it is a sewer's dream. With its origin in German tradition, it fits perfectly in the new generation of PFAFF® sewing machines. Get ready to enjoy what the name PFAFF® stands for.
Some of the key features for the
PFAFF®

expression™ 3.5 are:
The Original IDT™

– Integrated Dual Feed only from PFAFF® for over 45 years! Absolutely even feed of fabric from the top and bottom. The IDT™ system is ideal for the quilter and sewing. This system works with any stitch forward or reverse at any stitch length or width. The original IDT™ system from

PFAFF®

is built right into the machine. It can be easily engaged or disengaged when needed.

German Innovate Design

– built to make sewing easy and to achieve the professional results that sewers want. The

PFAFF

expression™ 3.5 with its innovative features, durability and ease of operation will do it all for you.

Large Sewing Space

– The

PFAFF®

expression™ 3.5 sewing machine is the perfect machine for quilter, home decor sewers, fashion enthusiasts – just about any one who loves to create! The sewing area to the right of the needle is super-sized for large sewing projects. Quilting your quilts has never been easier.

Illuminated Graphic Display

– The display screen shows the stitch in actual size and all important information.

Dual LED Lights

– Optimized bright lights illuminate your entire sewing area without shadows.

Extra Presser Foot Lift

– Raise the presser foot to its highest position so that thick fabric can be easily placed under the presser foot.

Stitch Restart

– Instantly returns to the beginning of your selected stitch, sequence or embroidery at a touch of one but ton.

Mirror Image

– Flip the stitch side-to-side and/or end-to-end for more creativity.

Top Loaded Bobbin

– Makes changing the bobbin so easy.

Needle Up/Down

– Touch a button to set your needle to automatically stop up or down in the fabric for pivoting, applique and more.

Two Free Motion Positions

– Two modes for free-motion quilting, thread painting or darning. Select the best mode for your specific technique.

Easy Access Stitch Selection

– Quick and easy stitch selection using the Direct Selection buttons.

Personal Stitch Setting

– Change the setting of a built-in stitch to your personal liking and save it one of the 10 personal stitch memories.

Automatic Thread Tension

– Makes sewing simple. Best tension is set automatically for different stitches and techniques.

Needle Threader

– The integrated needle threader make threading the needle fast and easy.
Thread Snips – Automatically cuts top and bobbin thread and brings top thread to the bottom side. Automatically cuts after buttonholes. Programs cuts in sequences.

Tie-off

– When selected the

PFAFF®

expression™ 3.5 will tie-off automatically at the end of a sew for a quick and easy finish.

Stitch Width Safety

– When engaged the

PFAFF®

expression™ 3.5 will limit stitch width to center needle straight stitch while using straight stitch needle plate and/or straight stitch foot to prevent needle breakage.

External Feed Dog Drop

– Convenient location; lower the feed dogs from the front of the machine. Ideal for stippling, free-motion embroidery or darning

Fonts

– Choose from two built in fonts (Comic and Cyrillic) to personalize your sewing..

Decorative Stitches

– Select from a wide variety of beautiful high quality stitches – over 204. Including but not limited to utility, button holes, 9mm wide decorative, quilt, cross and hem stitches

Stitch Positioning

– Moves complete stitch to the right or left to align decorative stitches.

Quilt Stitches

– Enjoy quilting with 32 different quilt stitches, with a beautiful hand-stitched character

Tapering

– Taper all 9mm decorative stitches – Gradually increase or decrease the width at the beginning and/or at the end. Choose different angles for more creativity.

37 Needle Positions

– Variable needle position for precise stitching. Perfect for top-stitching, quilting, zippers and more!

Sensormatic Buttonhole

– Makes beautiful repeatable buttonholes on any fabric. Buttonhole columns are sewn in the same direction for precise stitch quality.

Twin Needle Program

– Enter the size of the twin needle to automatically adjust the stitch width. See the twin needle stitch on the screen.

Optimized Feeding

– Enhanced to provide more control when sewing through thick layers or seaming small pieces.

Info Button

– Simply touch the button to see important sewing recommendations on the illuminated graphic display.

Speed Range

– Adjust your sewing speed for specialty threads, techniques and personal taste. This is wonderful for all lead footed "drivers".

Stitch Restart

– Return to the beginning of a stitch or sequence without having to reset any special adjustments you've made.

Program Sequencing Commands

– Program a stop or a tie-off into a stitch sequence. Your sequence stitches exactly what you want every time.

Stitch Sequencing and Memories

– Combine and save up to 40 stitches and/or letters in one of 10 sequence memories – sew in one step repeatedly.

Large Stitch Plate

– Features seam marking to the left and right of the needle to help you guide your fabric with ease.

Stitch Density

– The stitch density control adjusts the density, the distance between the stitch points that make up the entire stitch. Density can be increased or decreased without affecting stitch length.

Warranty

– 20 yr. Metal casting, 5 yr. Electronics, 1 yr. Labor.
Accessory feet included:
OA Standard with IDT™, Fancy stitch foot 1A with IDT ™, Fancy stitch foot 2A, Blind-hem foot 3 with IDT™, Zipper foot 4 with IDT™, Sensormatic buttonhole foot 5A, Manual buttonhole foot 5M, Free-motion/darning foot
Stop in for a demonstration today!