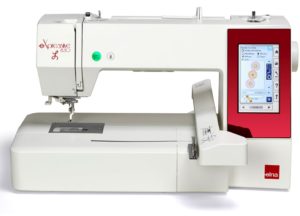 Broaden your creative perspectives! The elna eXpressive 830L is an embroidery-only machine designed for grand embroidery. It includes all what you need to customize your projects for sumptuous results: an extra-large embroidery area, a giant hoop, and a wide extension table.
You will experience pure embroidery pleasure thanks to many helpful functions to facilitate your work:
180 built-in embroidery designs
6 fonts for monogramming
Extra-large embroidery area: 200 x 360 mm
Wide and full-color LCD touch screen
Easy and guided bobbin threader with built-in thread cutter
Built-in needle threader Superior System
Bobbin and upper thread sensors
Automatic thread tension control
Automatic thread trimming between jumps during embroidery
Automatic return after a thread break
Extensive editing functions accessible directly on the machine
USB port and direct connection to PC for easy design transfer
EmbroideryEditor software
Embroidery foot P
Special bobbin holder for embroidery
Magnetic clamps for hoops x8
Hoop:RE36b (200 x 360 mm)
Hoop:SQ20b (200 x 200 mm)
Hoop:RE20b (140 x 200 mm)
Hoop:SQ14b (140 x 140 mm)
Bobbin x5
Needle set
Lint brush
Scissors
Spool holder small x2
Spool holder large x2
Spool holder special x2
Additional spool pin
Screwdriver large
Screwdriver for needle plate
Bobbin holder cleaner
Touch panel stylus
USB cable
Tutorial video (DVD and online)
EmbroideryEditor Software
Extra-wide extension table
See us for a demonstration!!