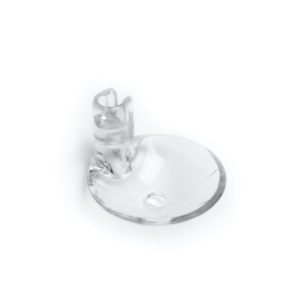 PART #821255096
SPECIALTY TYPE: QUILTING
The Glide foot has a bowl shape, which allows it to easily glide around appliques, embellishments and other dimensional elements on a Quilt.  It is also great to use when basting around the edge of a quilt as it won't get caught on the edge of the quilt top.
TO ATTACH THE GLIDE FOOT
 If another presser foot is on the mount, use the 2.5mm hex wrench to loosen the mounting screw far enough that you can slide the foot off of the mount.
 Slide the Glide Foot onto the mount.
 The opening on the side of the foot lines up with the mount's screw hole. Push the Glide Foot up as far as it will go.
 Ensure the foot is centered over the hole in the needle plate and that the needle is centered in the foot. Then fully tighten the screw with the 2.5mm hex wrench.