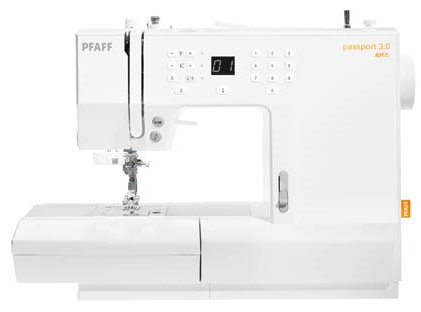 Whether you are searching for a sewing machine for a small space or one perfectly designed for travel and classes – this is it. Whatever the journey, your PFAFF® passport™ 3.0 sewing machine is ready. Are you?
With best-in-class features and reliable stitch results, we are confident the PFAFF® passport™ 3.0 sewing machine will exceed your expectations for a lightweight, compact sewing machine.
What are you waiting for? Get ready to explore a new sewing companion packed with PFAFF® features.
Some of the key features of the
PFAFF®

passport™ 3.0 are:
Compact/Portable Sewing Machine

– This little sewing machine weighs only 14.7 ponds and that makes it perfect to take to class or for today's sewer…always on the run…traveling!

PFAFF®

Original IDT™ System

– Integrated Dual Feed only on a

PFAFF®

for over 45 years! Absolute even fabric feed from both the top and bottom. A must for every quilter.

PFAFF®

Original Presser Foot System

– A large variety of accessories available to expand your sewing!

PFAFF®

Design

– Built for precision, helping you achieve professional results with comfort and ease!

Stitch Menu Tab

– Convenient location on the right side of the machine. Pull out to view the beautiful complete selection of stitches.

100 Stitches

– A wide variety of gorgeous 7mm stitches, including utility stitches, buttonholes, decorative stitches, quilt stitches, needle art stitches and satin stitches.

Thread Snips

– Automatically cut top and bobbin threads, pulling all thread ends to the back side of the fabric.

Beautiful Appliqué Pin Stitch

– Adjustable; easy to achieve your desired result.

Start/Stop

– Sew without the foot control – makes sewing long sews, free-motion and buttonholes easy.

Speed Slider

– Are you a lead foot driver? Always putting the pedal to the metal? Worry no more; use the slider to keep your speed under control.

One-step Buttonhole

– Snap on the buttonhole foot and stitch out perfect buttonholes no matter how many you need. Always beautiful, even and smooth.

Free-motion Sewing

– Simply attach the optional free-motion presser foot, lower your feed dogs, relax and enjoy easy quilting.

External Feed Dog Drop

– Easily accessible at the back of the free arm. Ideal for stippling, free-motion embroidery or darning.

Extra-High Presser Foot Lift

– Raise the presser foot to its highest position so thick fabrics can be easily slipped under the presser foot.

Presser Foot Pressure

– Easily adjusted for specialty fabrics/techniques or when sewing on light or heavy fabric.

Adjustable Thread Tension

– With just a turn of the dial, set the thread tension to make the threads meet evenly between two layers of fabric.

Needle Up/Down

– Touch a button to set your needle to automatically stop up or down in the fabric for pivoting, applique and more. Tap the foot control to shift the needle between up/down position.

Immediate Tie-off

– Push the button and the machine will tie-off automatically for a quick and easy finish.

Two LED Light Sources

– Optimized bright lights illuminate your sewing area without shadows.

Spacious Sewing Space

– Just under 6″ of sewing bed space.

Two Spool Pins

– For twin needle or specialty sewing.

29 Needle Positions

– Perfect for top-stitching, quilting, inserting zippers and much more!

Electronic Needle Piercing Power

– Full piercing power at any speed with total control.

Integrated Needle Threader

– Makes threading the needle fast and super easy.

Stitch Plate

– Markings to the left and right of the needle helps you guide your fabric.

Top Loaded Bobbin

– Easy to access.

Snap-on/Snap-off Presser Feet

– Changing is so easy, no screw driver or other tools needed.

Warranty

– 10 yr. Metal casting, 2 yr. electronics 1 yr. labor
Accessory Feet Included:
Standard presser foot OA with IDT™, Fancy Stitch foot 1A with IDT ™, Blind-hem foot 3 with IDT™, Zipper foot 4with IDT™, One-Step Buttonhole foot 5B
Additional Accessories Included:
Hard Case Cover – Protects your sewing machine when transporting it; keeps it dust free.
Accessory Tray – Keep all your sewing needs at your fingertips!
Optional Accessories:
Extension/Quilt Table with Bag

– Optional table provides support for your projects. This extension table has a printed ruler with both centimeters and … The soft sided bag clips onto your hard cover case.

Straight Stitch Needle Plate with Inch Marking

Free Motion Foot

PFAFF®

passport™ 3.0

Extension Table
See us for more exciting information!