Technology that understands my passion!
Realize your sewing potential with these features: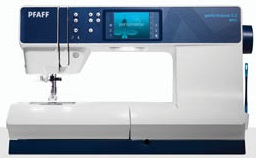 The Original IDT™

– Integrated Dual Feed only from

PFAFF®

for over 45 years! Absolutely even feed of fabric from the top and bottom. The IDT™ system is ideal for the quilter and sewing. This system works with any stitch forward or reverse at any stitch length or width. The original IDT™ system from

PFAFF®

is built right into the machine. It can be easily engaged or disengaged when needed.

German Innovate Design

– built to make sewing easy and to achieve the professional results that sewers want The

PFAFF®

performance™ 5.2 with its innovative features, durability and ease of operation will do it all for you.

Large Sewing Space

– The

PFAFF®

performance™ 5.2 is the perfect choice for quilters, home decor sewers, fashionista – just about anyone who loves to create. The sewing area to the right of the needle is super-sized for sewing large amounts of fabric or batting.

Optimized Feeding

– Enhanced to provide more control when sewing through thick layers or seaming small pieces.

Electronic Knee-Lift

– Raises the presser foot with an easy movement allowing you to keep your hands on your project.

Illuminated Graphic Display

– The display screen shows the stitch in actual size and all important information.

Dual LED Lights

– Optimized bright lights illuminate your entire sewing area without shadows.

PFAFF®

creative™

Color Touch Screen

– The clear, high resolution display shows stitches in actual size. The intuitive design is easy to understand.

Straight Stitch Needle Plate Sensor

– The performance™ 5.2 sewing machine alerts you if you try to select a stitch other than straight stitch when the straight stitch needle plate is attached.

Quick Help System

– Touch the quick help icon for instant information.

Speed Ranges

– Adjust sewing speed and your

PFAFF®

performance™ 5.2 sewing machine remembers your preferred setting until turned off.

Screen Saver with Start-Up Screen

– The Start-Up screen will be displayed as a screen saver ten minutes after the last touch on the screen.

Personal Menu

– Save your personal stitches and sequences in a folder to sew them again whenever you wish.

Bobbin Thread Sensor

– The performance™ 5.2 will alert you when the bobbin thread is low.

Separate Bobbin Winding Motor

– Wind a bobbin while sewing or embroidering without having to un-thread the needle.

Stylus Holder Built-In

– Keeps your stylus at your fingertips.

Bobbin

– For ease of access, change your bobbin from the top.

Needle Up/Down

– Touch a button to set your needle to automatically stop up or down in the fabric for pivoting, applique and more.

Extra Presser Foot Lift

– Raise the presser foot to its highest position so that thick fabric can be easily placed under the presser foot.

Update-able

– Update your performance™ 5.2 sewing machine easily. Download the latest update from the Internet; update quickly with a USB stick.
UNIQUE

PFAFF®

Sewing Techniques

(patent pending) –

Single Ribbon Stitches

– Add dimensional elements to your decorative stitching with beautiful ribbon stitches. Narrow ribbons and trims are woven into these special stitches as you sew

Stacking Stitches

– Sew beautiful decorative stitches in two colors. The stacking stitches consist of pairs of stitches that are designed to be sewn on top of each other.
| | |
| --- | --- |
| | |
Decorative Stitches

– Select from a wide variety of beautiful high quality stitches – over 300. Including but not limited to utility, button holes, 9mm wide decorative, quilt, cross and hem stitches. Including some that look like vintage hand work.

Maxi Stitches

– Up to 48mm wide built-in stitches for beautiful embellishment.

Needle Threader

– The integrated needle threader makes threading the needle that much easier.

Stitch Fonts

– 4 built-in stitch fonts to choose from to personalize your projects.

creative signature™

Sewing Programs

– Tapering on all 9mm stitches, single stitch program, patchwork program, stitch positioning and stitch density to customize your work.

Patchwork

– Use the patchwork program to remember seam length to repeat over and over. This can be used with both utility and decorative stitches.

Single Stitch Program

– Set exact number of stitches or sequence repeats you wish to sew.

Mirror Image of Stitches

– Flip the stitch side to side and/or end to end for more decorative sewing.

Stitch Positioning

– Moves complete stitch to the left or right for easily align decorative stitches.

Stitch Density

– Density can be increased or decreased without affecting stitch length by controlling the distance between the stitch points.

EXCLUSIVE Stitch Creator™ Program

– Create 9mm stitches or edit built-in stitches for unlimited creativity.

Free-Motion Mode

– Three free-motion modes for free-motion quilting, thread painting or darning. Select the best mode for your specific technique.

Automatic Feed Dog Drop

– The feed dogs are lowered or raised automatically depending on the stitch/technique selected.

Memory

– Save your stitches and/or sequences in one of 30 memories.

Automatic Presser Foot Lift

– Raises the presser foot instantly when the needle is set to stop down and/or at the end of a seam after a thread snip.

Thread Snips

– Automatically cut top and bobbin threads, pulling thread ends to the back side of the fabric.

Sensormatic Buttonhole

– Buttonhole columns are sewn in the same direction for precise stitch quality. Your buttonholes are perfect each and every time.

Start/Stop

– Sew without the foot control – Makes sewing long seams, free-motion and buttonholes easy. Just hit the button.

37 Needle Positions

– For exact placement of your straight stitch.

Stitch Width Safety

– Limits stitch width to center needle straight center position while using the straight stitch foot to prevent breaking a needle or worse…main motor overload.

Stitch Restart

– Return to the beginning of a stitch or sequence without having to reset any special adjustments you have made.

Twin Needle Program

– Enter twin needle size to automatically adjust the stitch width. See the twin needle stitch on the screen.
Immediate Tie-Off – When pressed the performance™ 5.2 will tie-off and stop automatically for a quick and easy finish.
Accessory feet included:
Standard presser foot 0A with IDT™, Fancy stitch foot 1A with IDT ™, Fancy stitch foot 2A, Blind-hem foot 3 with IDT™, Zipper foot 4 with IDT™, Sensormatic buttonhole 5A foot, Manual buttonhole foot 5M, Sensormatic free-motion/Embroidery foot 6A, Maxi stitch foot 8, ¼" Quilting foot with IDT™
Additional Accessories included:
Straight stitch needle plate, electronic knee lift, hard case cover
Optional Accessories:
Extension Table with Adjustable Guide, Circular Attachment
| | | |
| --- | --- | --- |
| | | |
| Sample of Decorative Stitches | Adjustable Extension Table with Guide | Decorative Stitches using Circular Attachment |
It is a truly great machine to sew with. Stop in today for a demonstration. Once you have stitched on a PFAFF®, you will take one home.