Elegant functionality is delivered with poise and precision by the exciting PFAFF® quilt expression™ 720 sewing machine. Discover the depth and harness the artful ability of this sophisticated and robust machine.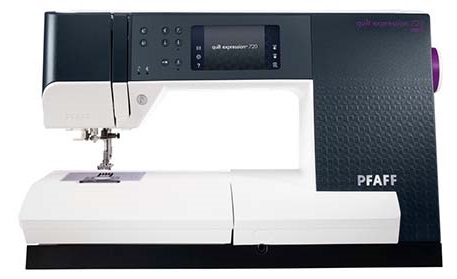 The Original IDT™ System – Original since 1968!  The integrated dual feed from PFAFF® precisely feeds all types of fabric from the top and bottom for perfect stitching every time you sew.
Large Sewing Space – The PFAFF® quilt expression™ 720 sewing machine is the perfect choice for quilters, home décor sewers, fashion enthusiasts – just about anyone who loves to create.  The sewing area from the needle to the right is just under 10″ (250mm), perfect for sewing large amounts of fabric or batting or fabric with batting.
PFAFF® Color Touch Screen – See the stitches in real size and get all of the sewing information you need directly on the Color Touch Screen!

The Graphical User Interface is specially designed to meet your needs.
QVGA screen 3.5″, (70 x 53mm)
Resolution 320 x 240

Exclusive PFAFF® Stitch Techniques – Experience world class, unique and advanced stitch techniques for sophisticated design.

Floating Stitches – add embellishments to your project with stitches that look like they are floating on top of the fabric with no connecting stitches in between them.  It looks like a unique hand stitched effect.
Triple, Double and Single Ribbon Stitches – add dimensional elements to your decorative stitching with beautiful ribbon stitches,  Narrow ribbons and trims are woven into these special stitches as you sew.
Stacking Stitches – sew beautiful decorative stitches in two colors.  The stacking stitches consist of pairs of stitches designed to be sewn on top of each other, one at a time.

Exclusive Stitch Creator™ Feature – Create 9mm stitches or edit built-in stitches for unlimited creativity.  Just think of all the possibilities!
CREATIVE  SIGNATURE™ Sewing Programs –
Tapering on all 9mm Decorative Stitches – Taper the beginning and/or end of any stitch, and choose from many different angles for a multitude of opportunities.
Stitch Positioning – Moves the complete stitch right or left to easily align decorative stitches.
Mirror Image of Stitches – Flip the stitch side to side and/or end to end for even more possibilities.
Patchwork Program – Use the Patchwork Program to repeat the seam length over and over.  This can be used with both utility and decorative stitches.
Stitch Density – Density can be increased or decreased without affecting stitch length by controlling the distance  between the stitch points.
Twin Needle Program – Enter twin needle size to automatically adjust the stitch width.  You can see the twin needle stitch on the screen.
Single Stitch Program – Set the exact number of stitches or sequence repeats you wish to sew.
Sewing Features –
Automatic Self-Adjusting Thread Tension –  Best tension is set automatically for all sewing techniques and fabrics! You can override automatic tension easily for specialty techniques.
Over 400 stitches – You will be astonished by the fascinating selection of PFAFF® high- quality stitches – unique embellishments, stitched perfectly up to 9mm.  You will have endless opportunities to be creative with:

425 stitches, up to 52mm wide
9 categories for easy selection
Exclusive patented stitch techniques

Maxi Stitches – Add beautiful decorative accents to your projects with stitches and monograms that sew side to side to create finished stitches up to 52mm wide.
Free-Motion Mode – Choose between 3 modes for free-motion quilting, thread painting or darning.

Select the best mode for your specific technique
The feed teeth will drop automatically when your preferred method is selected.

Automatic Presser Foot Lift – Raise the presser foot instantly when the needle is set to stop down.
Sensormatic Buttonholes – The Sensormatic Buttonhole Foot automatically sew perfectly balanced one-step buttonholes every time.

Both buttonhole columns are sewn in the same direction for precise stitch quality.
10 buttonholes styles designed for various sewing applications.

37 Needle Positions – For exact placement of your straight stitch.  Perfect for top-stitching, edge stitching, under stitching, stitching in the ditch or quilting.
4 Built-In Sewing Fonts –  Choose from 4 sewing alphabets, with both upper and lower case letters, for easy programming.
Personal Menu – Save up to 30 of your personal stitches and sequences in a folder to sew them again whenever you wish.
Quick Help System – Touch the quick help icon for instant information.
Extra Presser Foot Lift – Raises the presser foot to its highest point while dropping the feed teeth so thick fabrics can be placed easily under the presser foot.
Needle Up/Down –  Set needle to stop up or down in the fabric for pivoting, applique and much more.
Thread Snips – Automatically cut top and bobbin threads, pulling top threads to the back side of the fabric.
Stitch Restart – Return to the beginning of a stitch or sequence without having to reset any special adjustments you have made.
Immediate Tie-Off – When pressed the PFAFF® quilt expression™ 720 will tie-off and stop automatically for a quick and easy finish.
Machine Features –
Straight Stitch Plate and Sensor – The perfect help for straight stitch sewing with any straight stitch accessory.

Attach the Straight Stitch Plate and the machine sensor alerts you if you select any stitch other than a straight stitch.
No need to worry about damaging your needles, machine or sewing foot anymore!

Personal Menu – Save your personal stitches and sequences to sew them again whenever you wish.
Stitch Sequencing – Combine and save up to 99 stitches and/or letters.
Built-in Needle Threader – Makes threading easy and reduces eye strain.
LED Illuminated Workspace – Designed to give even light across the entire work space.

LED technology and light guides provide excellent lighting on your work area.
See fabric and stitches in true color with little to no shadows.

Bobbin Thread Sensor –  Alerts you when your bobbin thread is low.  It's your decision to play "thread chicken".
Electronic Knee Lift – Raises presser foot with an easy movement, allowing you to keep your hands on your project.
Speed Slider – Adjust sewing speed with the speed slider for full control.  If you are a "lead foot driver" you can put your foot, pedal to the metal, and sew at an appropriate speed for your project.
Jam Proof Rotary Hook – No threads caught in bobbin area.
Updateable – Download the latest program version from the internet – update quickly with a USB stick.
Languages – Choose from 12 languages in the Settings menu to a make sure your PFAFF® quilt expression™ 720 sewing machine speaks the same language as you.
Stylus Holder Built-in – Keeps your stylus at your fingertips.
Inch/cm Ruler on the Base Plate – Convenient measuring directly on your PFAFF® quilt expression™ 720 sewing machine.
Miscellaneous Accessories Included –
Straight Stitch Plate – with a single hole for more precision and control.
Hard Cover – Protect your sewing machine when transporting it. Dust free storage for your PFAFF® quilt expression™ 720.
Electronic Knee Lift
Accessory Feet –
0A Standard with IDT™ – is used mainly for straight and zigzag stitching with a stitch length longer than 1.0mm.
1A Fancy Stitch Foot with IDT™ – is used for decorative stitches. The grooves on the underside of the foot is designed to flow smoothly over the stitches.
2A Fancy Stitch Foot with IDT™ – When sewing decorative stitches or short zigzag stitches and other utility stitches with less than 1.0mm stitch length, use this foot. The groove on the underside of the foot is designed to flow smoothly over the stitches.
3 Blind Hem Foot with IDT™ – is used for blind hem stitches. The toe of the foot guides the fabric. The red guide of the foot is designed to ride along the fold of the hem edge.
4 Zipper Foot with IDT™ – can be snapped on either the right or the left of the needle, making it easy to sew close to both sides of the zipper teeth. Move the needle position to the right or left to sew closer to zipper teeth.
5A Sensormatic Buttonhole Foot – When connected to the machine, the buttonhole is sewn in the length that has been entered into the machine.
5M Manual Buttonhole Foot – is used for sewing manual buttonholes. Use the markings on the foot to position the garment edge. The finger on the back of the foot holds cording for corded buttonholes.
6A Sensormatic free-motion Foot – is used for free motion sewing. This foot can also be used for darning.
8 Maxi Stitch Foot – is used for side motion stitches.
¼" Quilting Foot with IDT™ – is perfect for piecing and patchwork, especially when used in conjunction with the straight stitch needle plate. The distance from the needle to the outer edge of the right toe is ¼" (6mm). The distance from the needle to the inner edge of the right toe is 1/8″ (3mm).
Drop in for a consultation.