It's good when a brand has been around a long time. It's even better when it doesn't show its age.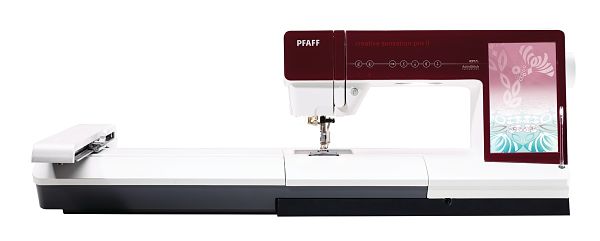 PERFECTION STARTS HERE!
There are many reasons behind the success of a brand like PFAFF®. It's a brand with over 150 years of development behind it and a consistent presence in the marketplace. It has a special air of familiarity, security and reliable quality.
Today's world overloads all of our senses. It reflects the spirit of the times. How do people live their lives, what did they think yesterday, what will they do tomorrow? What's in and what's out, and most important of all: what do people want? PFAFF® sewing machines are part of this world, because there is one thing that never goes out of style. The search for individuality. Welcome to the world of PFAFF®.
Are you ready for a sewing and embroidery machine that sets new standards? A machine with a design so distinctive? With technology that brings changes which you will immediately love? A machine that offers more possibilities that you can ever imagine? The new creative sensation ™ pro II and creative sensation™ pro will certainly tantalize your creative juices!​
Create an impact and enjoy twice the possibilities with PFAFF® creative™ 4.5. It looks different from any other sewing machine because it is different. Are you looking for a sewing machine with embroidery capabilities? Not sure if you want to embroidery but want to get your feet wet? Step into another world with the PFAFF® creative™3.0.
Looking to express your creativity? With PFAFF® creative™1.5 it's very easy to create a one of a kind design using this spectacular machine. The Embroidery PC Intro Software is included as a download! See your inspirations come true!
To learn more about the machines, please click on image or name for more information.